Adobe Premiere Pro free download 2022 Version: Most video editing experts choose Adobe Premiere Pro as their main tool for merging videos, adding effects, and creating modern transitions. The free version of Adobe Premiere Pro includes all the necessary tools for color correction, noise reduction, adding titles or other pop-up icons for quick navigation. Which is especially useful for bloggers.
Whether you only edit several videos a year. Or just want to edit your wedding footage. You can rely on specialized services to save your time and money. However, if video editing is your main source of income. So you can buy the software for $19.99/month, or use Adobe Premiere Pro for free.
Adobe Premiere Pro Main Features:
Amazing variety of transitions
VR projects
8K video editing
Advanced color correction tools
Supports plugins and presets
Animated graphics templates
Tight integration with After Effects
Over 10K tutorials for novices
How to Download a Adobe Premiere Pro Free Trial
The easiest way to test out the features of Premiere Pro without any restrictions is to download a trial version. All new users can test the program free of charge for 7 days. Even if they downloaded Photoshop for free before using this method. Plus, with the Premiere Pro free version, you'll have access to cloud services and can take advantage of tight integration with other Adobe applications.
1. To get a free Adobe Premiere Pro version, visit the official website and register if you don't have an account.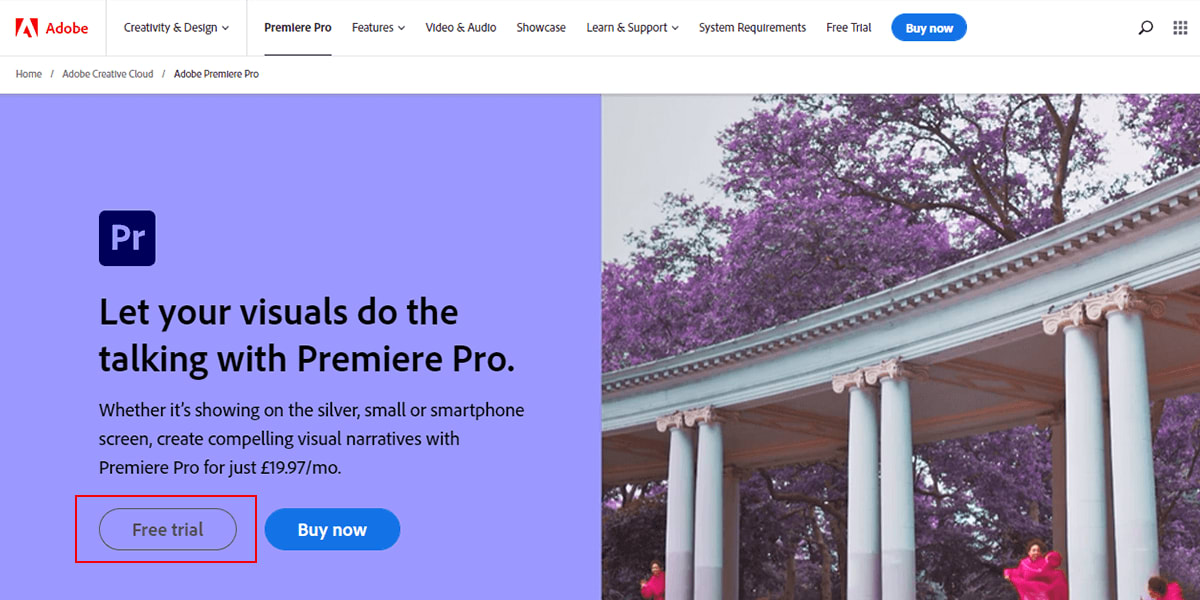 2. When you are on the main page, click on the "Free Trial" button. Then choose one of the two available plans. You can get the trial only for Premiere Pro or for all the apps in the Creative Cloud All Apps Pack.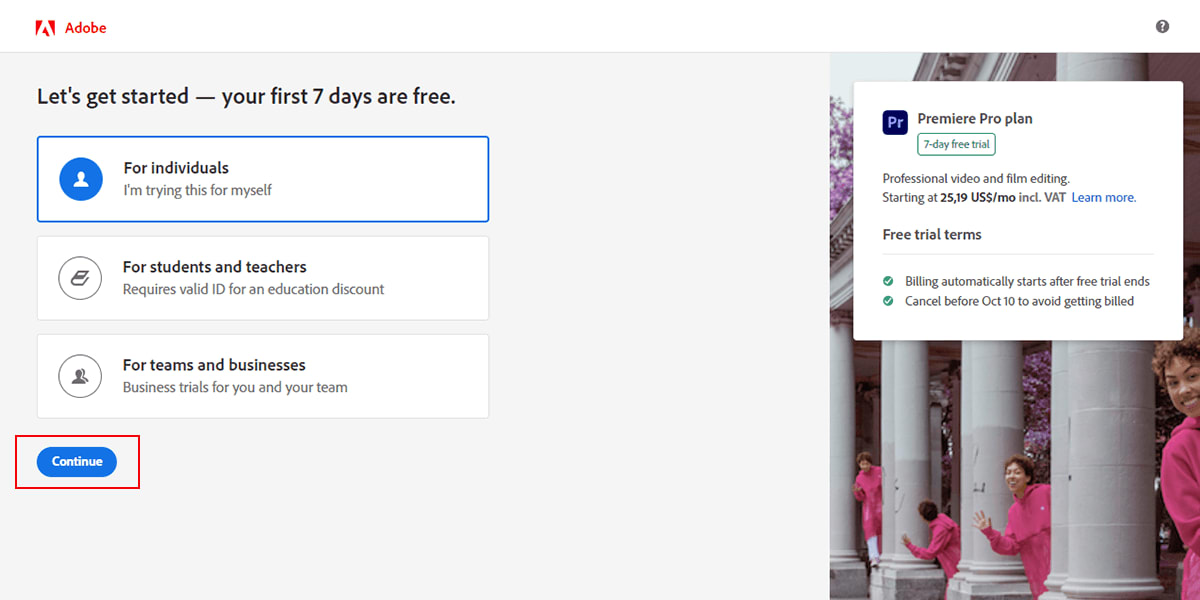 3. Also, look for plans for business or personal use, for teachers and students. When the launcher download process is complete. So log in and wait for the download and installation of the program to finish.
4. From the moment you download and open the program, you can use Premiere Pro free of charge.
Download a Adobe Premiere Rush App For Mobile Devices
If video editing isn't your main business and you want to work on the go or from your iPad. So you can download Adobe Premiere Mobile App (Rush Edition). You can use it on your device. Although this version has less functionality. You can still make simple edits and even use modern transitions. In addition, the mobile version does not have a limited trial period. You can use it for free as long as you want.
1. Go to the App Store or Google Play, depending on the OS installed on your device.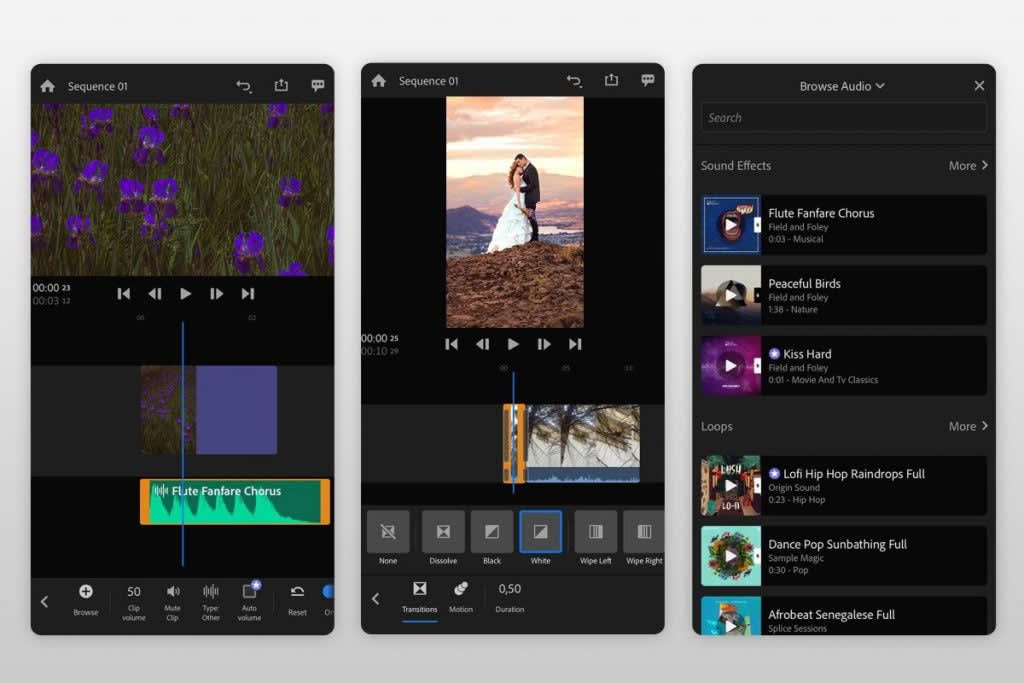 2. In the search field, write the full name of the program or just use key phrases like Adobe.
3. Install the application, log in with your Adobe ID, and enjoy the functionality of the app.
Adobe Premiere Pro Alternatives
When testing Premiere Pro free version, you can understand. That the program is too complicated for you. Or, the trial period may have expired and you don't feel like paying for the function. Doesn't matter what the problem is. You can choose an efficient option. There are absolutely free options as well as programs with longer trial periods.
HitFilm Express
Hitfilm Express comes with a complete editing suite. Which can be used to work with filters and special effects, as well as a set of tools for 2D and 3D compositing. In the same core tools as Premiere Pro, you'll find layers and masking, compositing instruments, keying for green screen effects, and 360-degree video editing options.
As far as unique features are concerned. Hitfilm Express offers multiple interface models like Audio, Colorist, Compositing etc. In other words, you can rearrange the window for your current task.
Available for: Mac OS
Shotcut
Shotcut is a completely free, open source, highly customizable video editor. The interface is clean and has a minimal number of tools. It is especially good for beginners.
You can work with Full HD and even 4K footage and use an unlimited number of video and audio tracks in your work. As for the effects, here they are presented in the form of different filters. Using them, you can improve the lighting and colors. However, it is not very convenient. Because you have to try each filter to understand how it works. You can also add a green background. Or you can apply a vintage movie effect to your video. The collection of transitions includes many effects – fading, flipping, etc.
Available for: Win / Mac / Linux
iMovie
However iMovie is only compatible with Mac devices. Many people like its powerful functionality. It has 4K and HEVC support, powerful storyboard tools, and dozens of movie templates. The biggest highlight of this Premiere Pro free alternative is its green screen. It is automatic and extremely efficient. You also get access to the picture-in-picture (PiP) feature. which is limited to an embedded image.
The software gasses several popular filters, including X-ray, duo-tone and sci-fi, as well as many black-and-white and retro images. As far as the title is concerned. Many of them are animated, and you can easily change the font, size, and alignment. You also get a good old Star Wars scrolling text effect.
Available for: Mac OS
Looking for a Photo Editor / Video Editor & Retoucher?
Get a free quote within 24 hours!