Some Milk Bath Photoshoot Ideas for babies and adults, Milk bath photography is a popular genre. Which allows a photographer to take mesmerizing pictures of a mother and baby, take stunning shots of male and female models and take stylish fashion photos. To give a unique feel to your photos, you can use different types of milk bath photoshoot ideas. Which will help you take attention-grabbing nude, boudoir, or maternity photos. In this article, you will find the most creative ideas that will enable you to take professional looking photos for your portfolio.
Keep everything safe During Milk Bath Photoshoot
You should always keep safety at the top of the list when shooting. With milk bath photography, there are a few things that always remain a problem:
Temperature: Always keep the bath at the proper temperature for the model. Especially if it's a milk bath baby shoot.
For example, if you are using powdered milk. So you have to take a bath with very hot water to avoid the clumps. Make sure the temperature is low before asking your model to move in.
The opposite is also true: if the bath gets too cold it will be uncomfortable for the model.
Allergies: As I mentioned earlier, there are different types of milk and they can be vegetarian or animal-based. Make sure your model is not allergic to the model you are using. The same goes for any essential oil that you add. As well as props, whether they are real flowers, leaves or fruits.
Surface: Bathtub shots can be bad because you're working with liquids. This is dangerous for you and your model. Because you can slip and fall. Keep everything dry and clean throughout the session.
Get stable support: It's also important to protect yourself and your devices. Use a camera strap to secure it in your hand to avoid any mishaps – see our guide to the best camera straps here.
Also, don't try to stand on the edge of the tub or climb an unstable surface to take photos. Bring essentials for the images you plan to take. From ladder to boom stand. If you don't have those, it's probably best to change the composition of the photos at the risk of injury or damage to your gear.
Do not leave babies unattended: If you are photographing baby's milk bath. So you should always have someone (parent or your helper) keep an eye on the baby, even if the water is very shallow.
Keep your model comfortable: Make sure the bath depth is comfortable for your model. so that they do not constantly struggle to keep their heads above the surface.
Add Paint
This idea was implemented in the clip "God is a woman" by Ariana Grande. To do this, all you have to do is fill your bathtub with paint. Despite being simple, creative picture background ideas like these can add an artistic feel to your photos. Pay attention to the color scheme as all the colors should form a harmonic composition in the frame. Be sure to discuss with your model whether they want to use contrasting or complementary tones.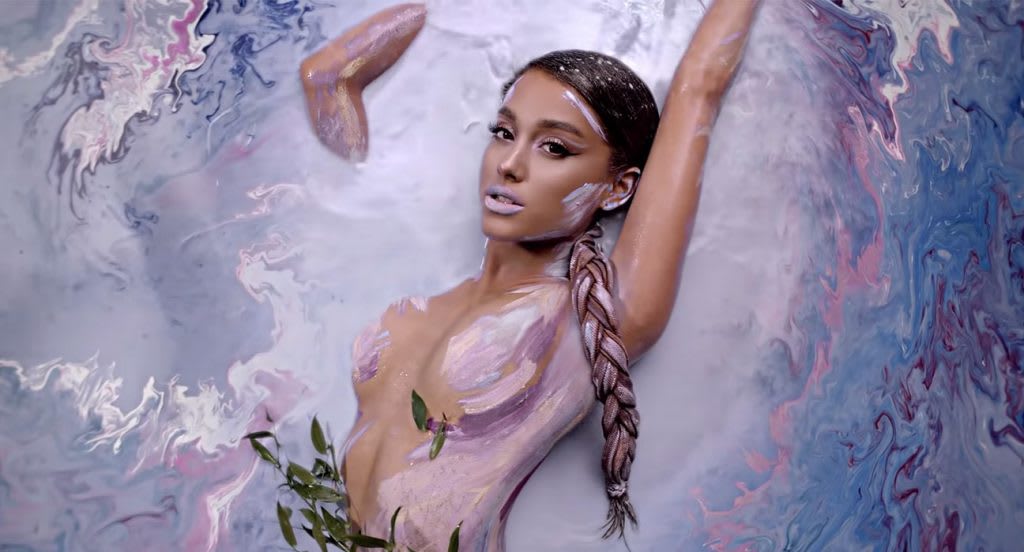 Model Wear a Sheer Fabric
If your model has a dress or other clothing made of sheer fabric. So ask her to wear it, as it will look attractive in the water. This will emphasize the curves of the body and the beauty of the skin while hiding imperfections and giving your model a modest look. You can also use a lace top, dress or cover-up for this. Any outfit made of tulle will do too. Your choice will ultimately depend on the effect you want to achieve. Also will depend on the wishes of your model.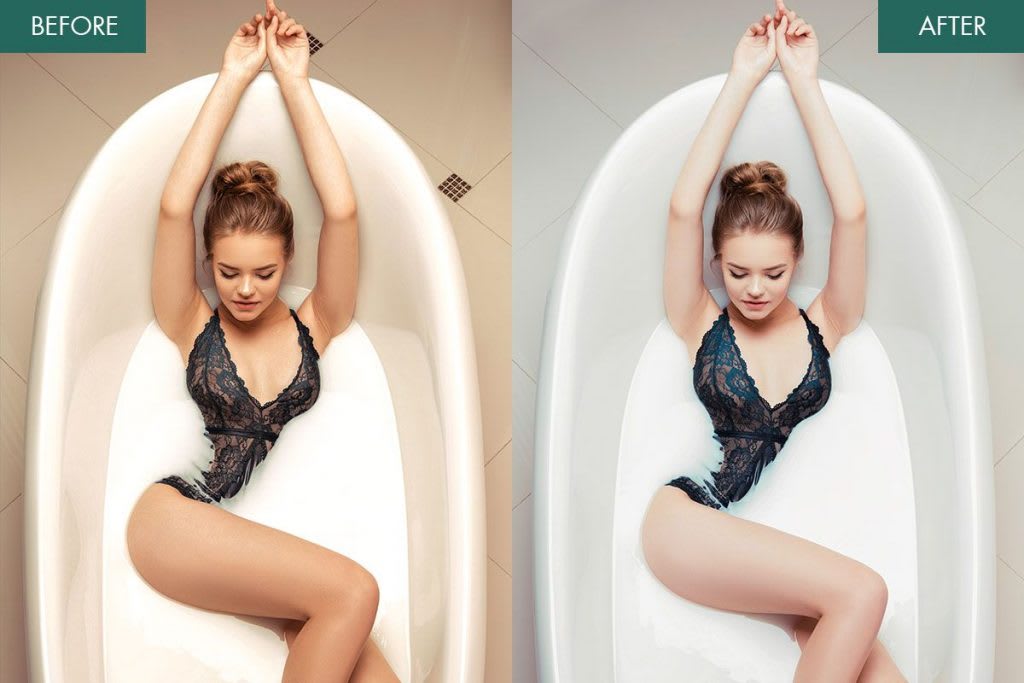 It may take you a lot of time to edit your picture of milk bath. Especially if it involves revamping the whole body. To save time, you can entrust this task to a professional photo editing service. This will make the colors more attractive. Will remove blemishes and correct blemishes of the skin. If you don't have a lot of money to spend. Then you will love their budget photo editing prices.
Be aware of the color palette
When you're buying props or thinking about coloring a milk bath. So you should stick to the color palette to maintain the harmony.
It's important to talk to your model or client to be sure. That they like the palette you choose and can coordinate wardrobe and makeup (if they're using any).
You can then buy flowers, props and dye according to your milk bath photo.
Bring different focal lengths
Using different focal lengths will add variety to your milk bath photos. If you are using prime lens. So you can use 50mm or 85mm for portraits and details.
On top of that, bring a wide-angle lens if the bathroom is small. You want to include more than the scene.
If you are using a zoom lens. So you can use a lens that covers from slightly wide angles to short telephotos. For example, a 24-70mm lens works well for milk bath photography.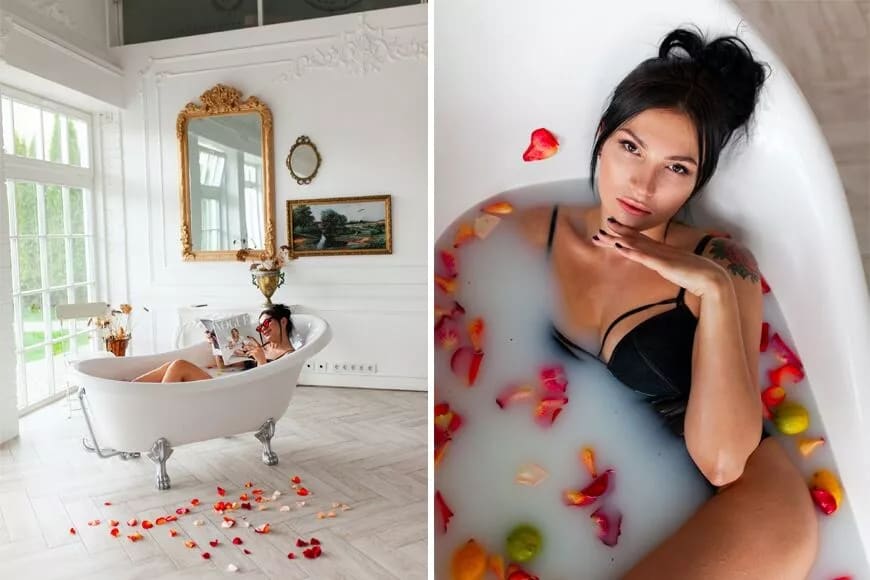 Throw in Glitter
Buy some glitter and mix it in water to make your photo look trendy and stylish. While this type of prop is quite cheap. You will need to pay special attention to the makeup. Because it should look funky and eye-catching.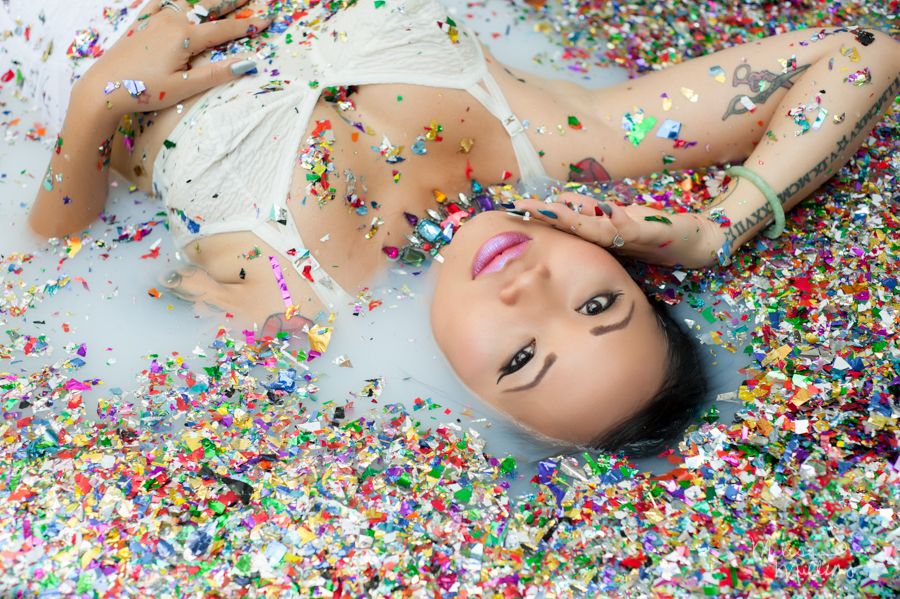 Flowers and Herbs
Most of the photographers use flowers when taking milk bath photos. Because they can use them to frame the subject and emphasize different parts of the body. By using beautiful flowers, you can add some contrast to your photos. Can enrich the texture, and create a beautiful composition.
If you are going to shoot for several hours. So it is better to use artificial flowers. However, they will look less attractive because of the unnatural colors. For a more professional result, use real flowers. Like peonies or sunflowers. You can also use rose petals to give a soft and supple feel to your images. By adding leaves and herbs to the tub, you can emphasize your subject. Can get more attractive results.
Nude Photography
The use of lingerie or sheer fabric adds color and texture to your milk bath photography images. This is great for those customers too. Those who are not professional models or who are shy.
However, you can try a nude photoshoot. Which emphasizes the smoothness of the skin and the shape of the body.
If your model is too shy, or you want to keep it G-rated to use in social media and other channels. So you can cover the sensitive parts beneath the surface. Can use currency with caution.
When taking nude photos of an adult model, be sure to use attractive photo poses for women to capture the smooth skin and attractive body curves. Milk will allow you to hide parts of the body. Which your model doesn't want to display.
You can suggest that your model take both photos that can be shared on social networks and more revealing shots with an artistic touch. There is no need to censor the latter. To take them, you can use any beauty milk bath photography idea. which is easy to implement.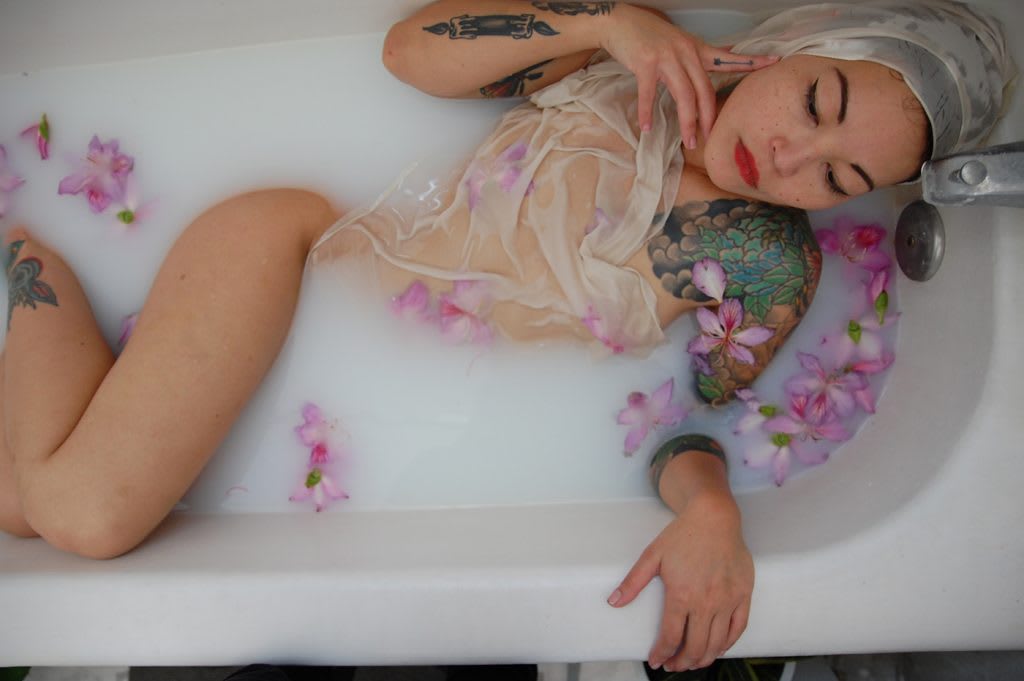 Add Some Fruit During Milk Bath Photoshoot
To emphasize a baby, you can use a lot of popular milk bath photoshoot ideas. However, by experimenting with fruits and other props, you can make your photos more interesting. For example, you can use floating fruits. Or simply place them on the grass or floor near the tub. Where artificial fruits will remain on the surface of the water. On the other hand, natural fruits will have more color and they will look more beautiful in the photo.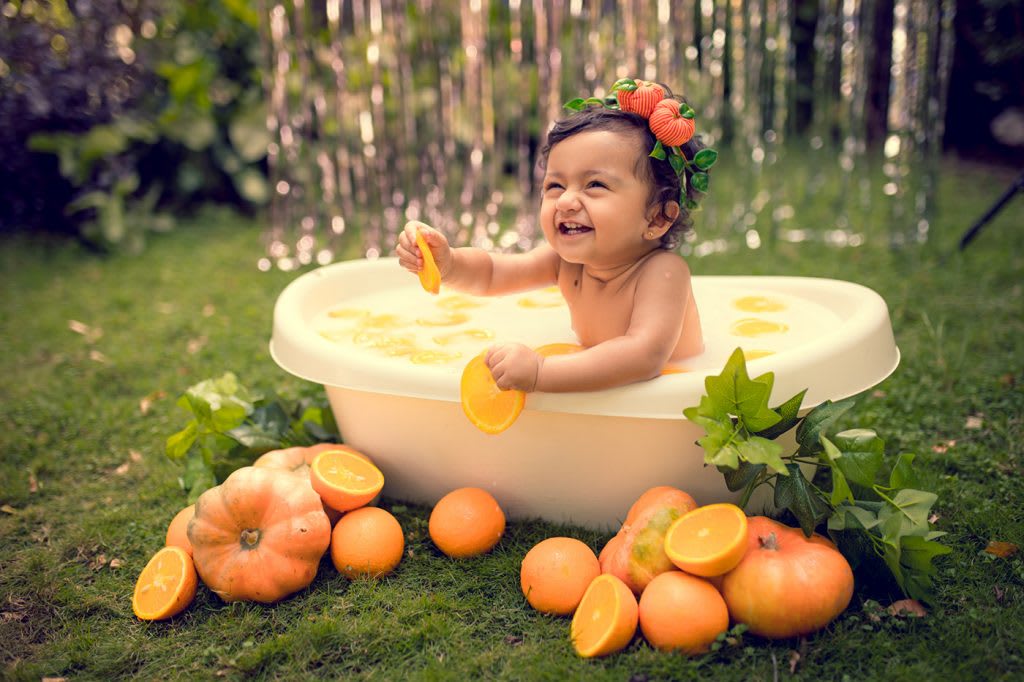 You can make your photos even more special by adding some color to the milk. For example, you can use flavored milk of different colors. Which matches the fruit props in the frame. Strawberry bath in the frame will always look good.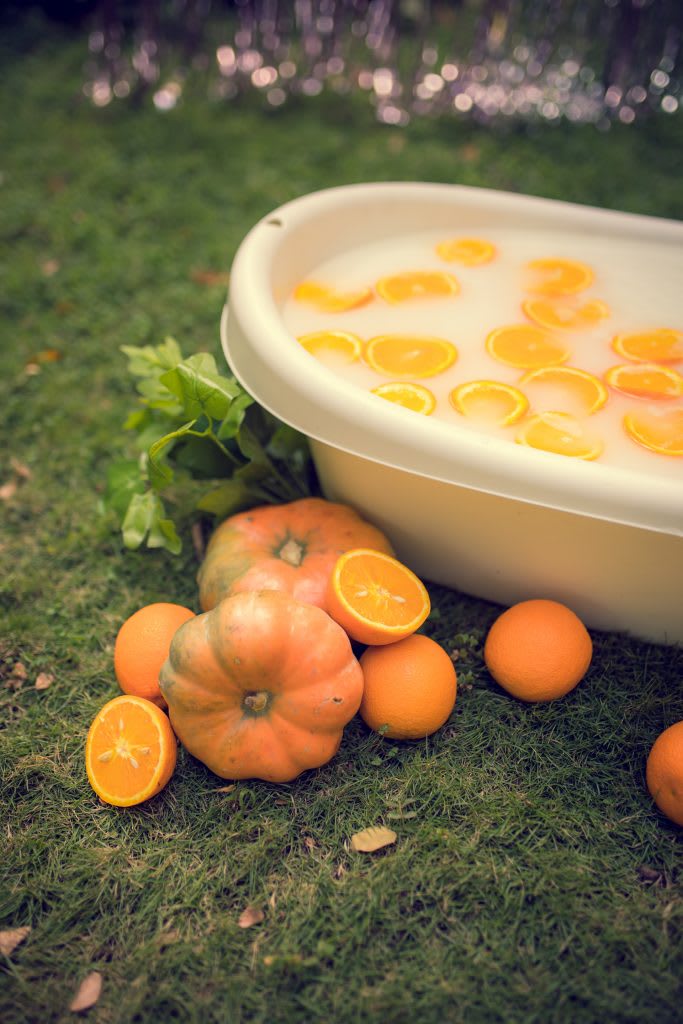 Color the milk Bath
It can be helpful to use the natural tone of the milk to have a neutral base to work with. When you are doing a milk bath maternity session or baby portrait. So it's complimentary for a certain mood as well.
But you can also experiment with color by dyeing a milk bath. For this you can use bath bomb or food coloring.
You might be wondering why you need milk instead of water to color it. Well, because the milk is changing opacity. Try it with different proportions and mix of colors.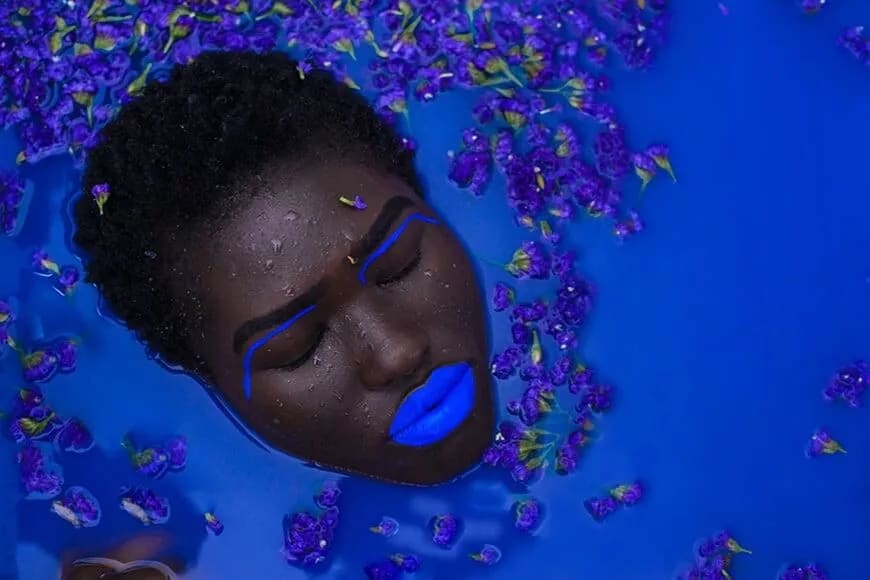 Relaxation Bath
One of the most creative self portrait photography ideas involves using a milk bath simply for relaxation. You can imprison yourself while sitting in the bath and thinking about good and pleasant things. As additional props, you can use a bathtub tray with various items. Like a candle or a cup. Add a few pieces of fruit to the bath and show off using other details. How do you spend your free time.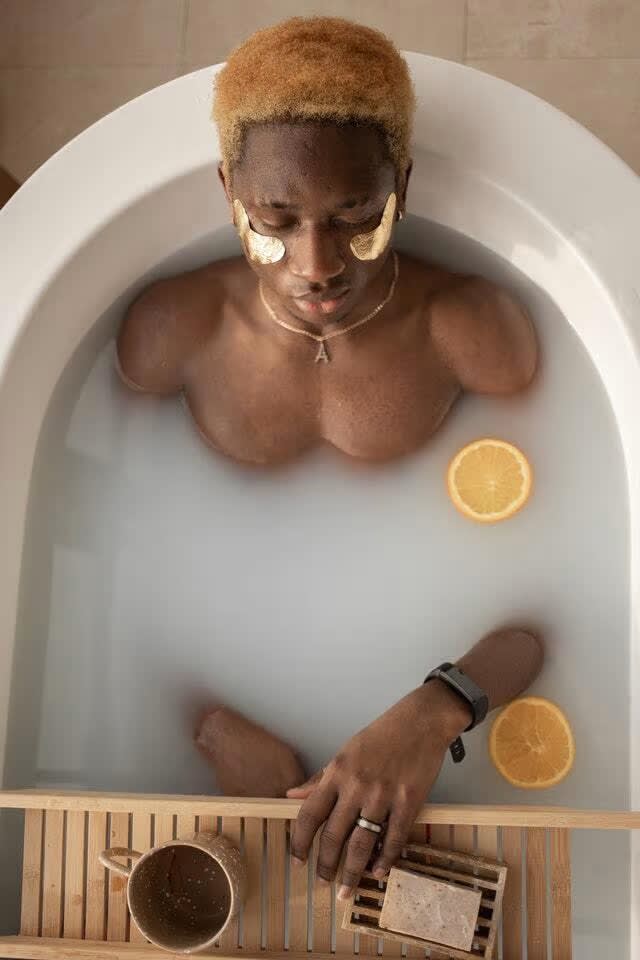 Fruit Loops
Whereas flowers always work great for pictures of adult models. You can use fruit loops when taking pictures of children. They will look great while floating in milk. Plus, kids will enjoy eating them.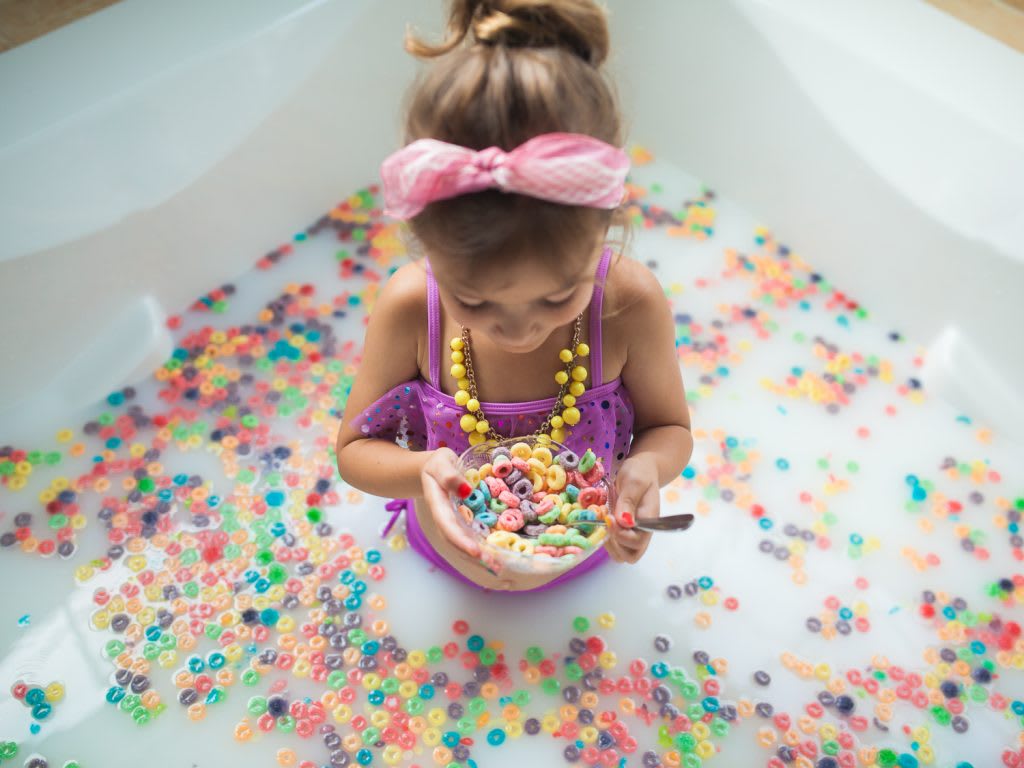 Use male models for Milk Bath Photoshoot
Who said milk bath sessions are only for women?
Even if most photographers stick to boudoir, maternity or newborns. So nothing can stop you from trying to break stereotypes by using male models.
Expand the range of your subjects to give your milk bath photography a new creative horizon. These are also ideas for best friend photo shoots.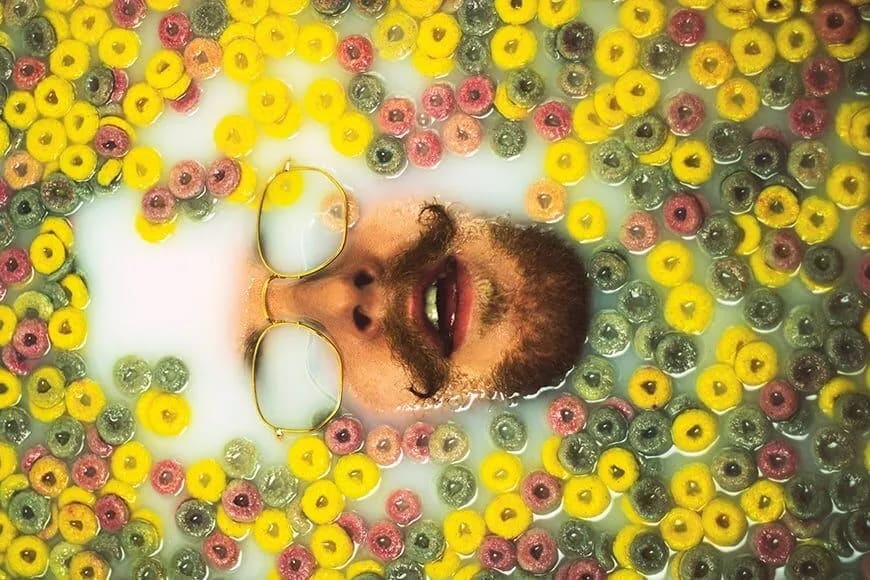 Innovate your Milk Bath Photoshoot
This is a rule that applies to photography in general. But especially in very modern types like milk bath photography.
You can be inspired by other photographers and images you find online. But it's important to find your own style. To do this you often have to try new and bold things.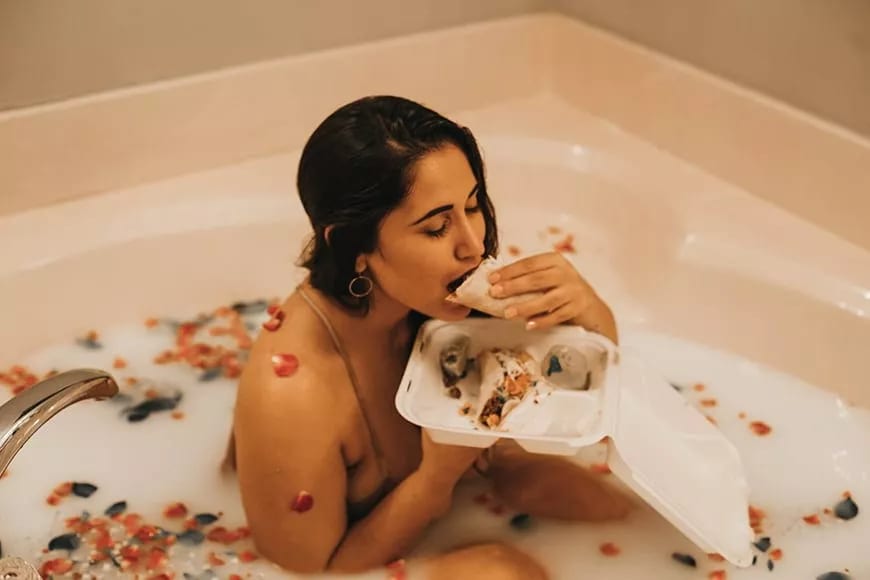 Milk Bath Splashes
Every photographer who has ever taken pictures of children. He knows that taking care of them can be difficult. That's why there is no need to try to take stage photos using complicated milk bath picture ideas. Just let the kids play and have fun. You can capture nice candid shots of a baby splashing in the bath. Which would make a great addition to the family album.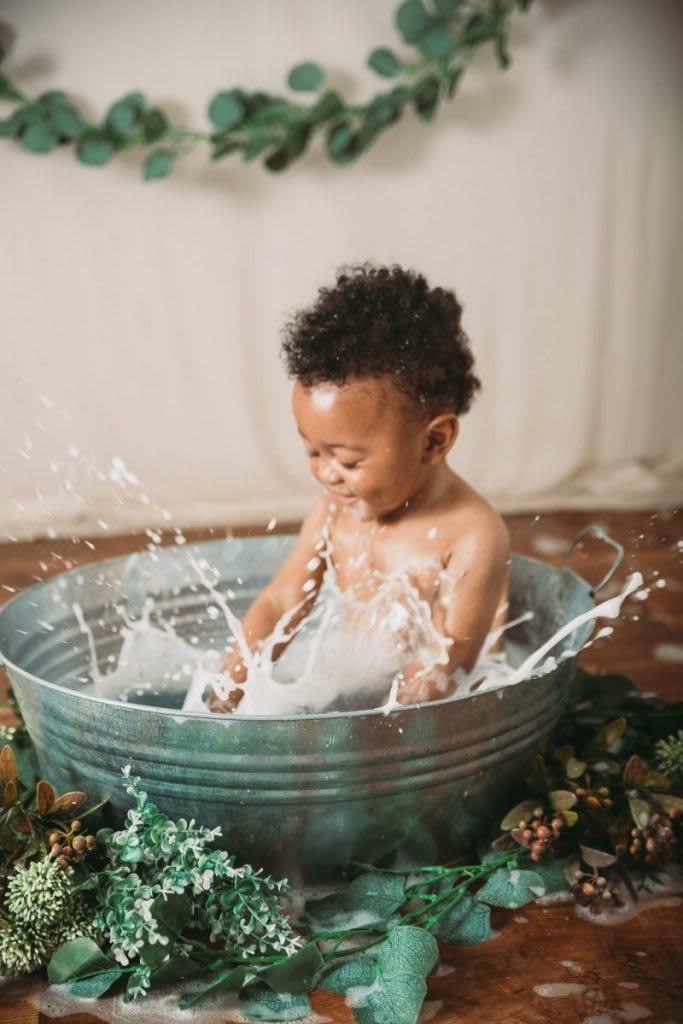 Light Up the Water
To create a magical ambiance, you can buy water lights and place them in the bathtub. Or place them around to emphasize certain parts of the frame. You can also use a smoke bomb machine to add some mystery to your photos.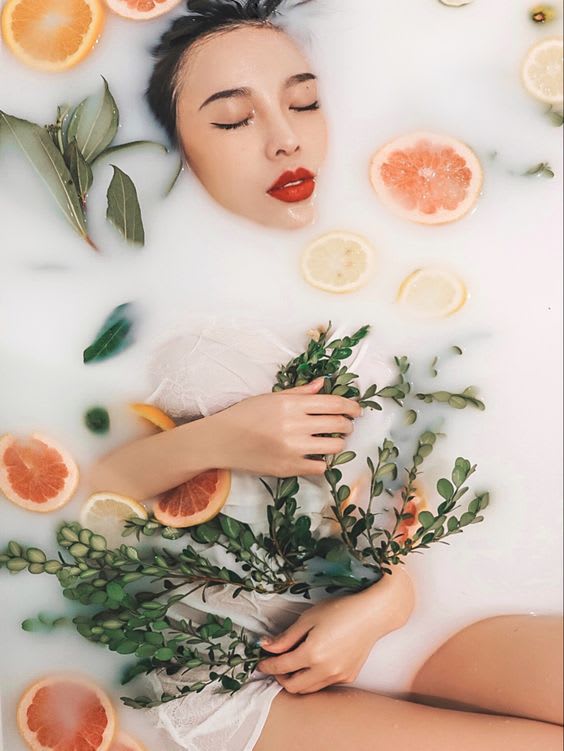 Cookies in Milk
Such cute baby photoshoot ideas are used by photographers. Who wants to take pictures that will make people smile and evoke fond memories. It will be easier for you to hold the baby with cookies. This is a great idea for Christmas photos. You can also use Santa's hat as a prop.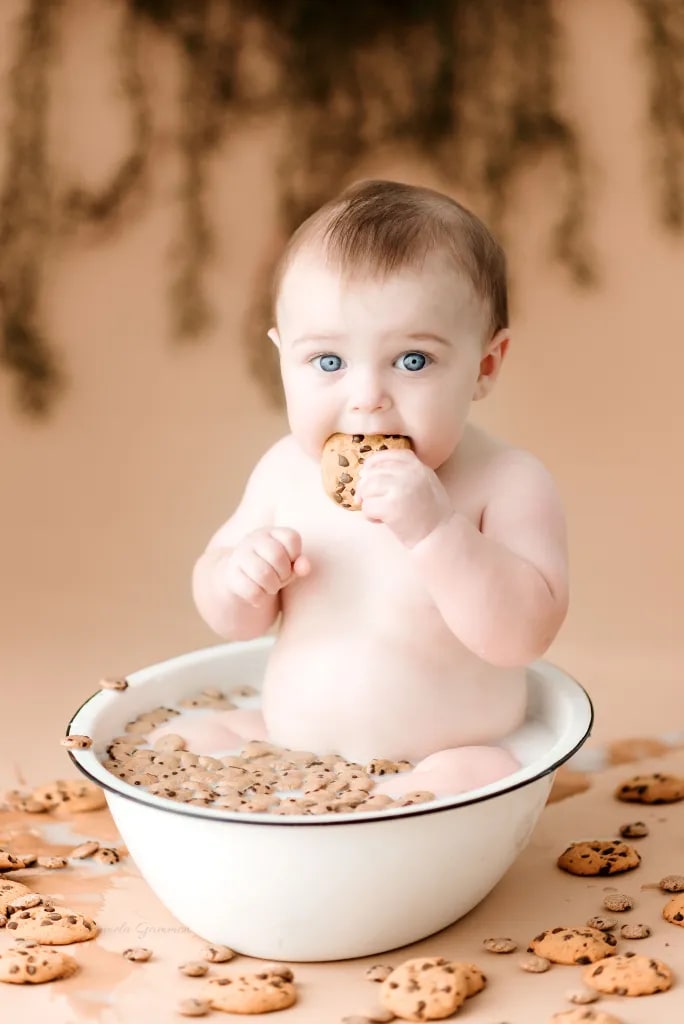 Milk Bath Pregnancy Photoshoot (Maternity Milk Bath)
Milk bath can be a perfect idea for pregnant women. This will help you to emphasize their unique beauty and get beautiful pictures for a family album. Moreover, it will be easier for you to take a photo in focus with the baby bump.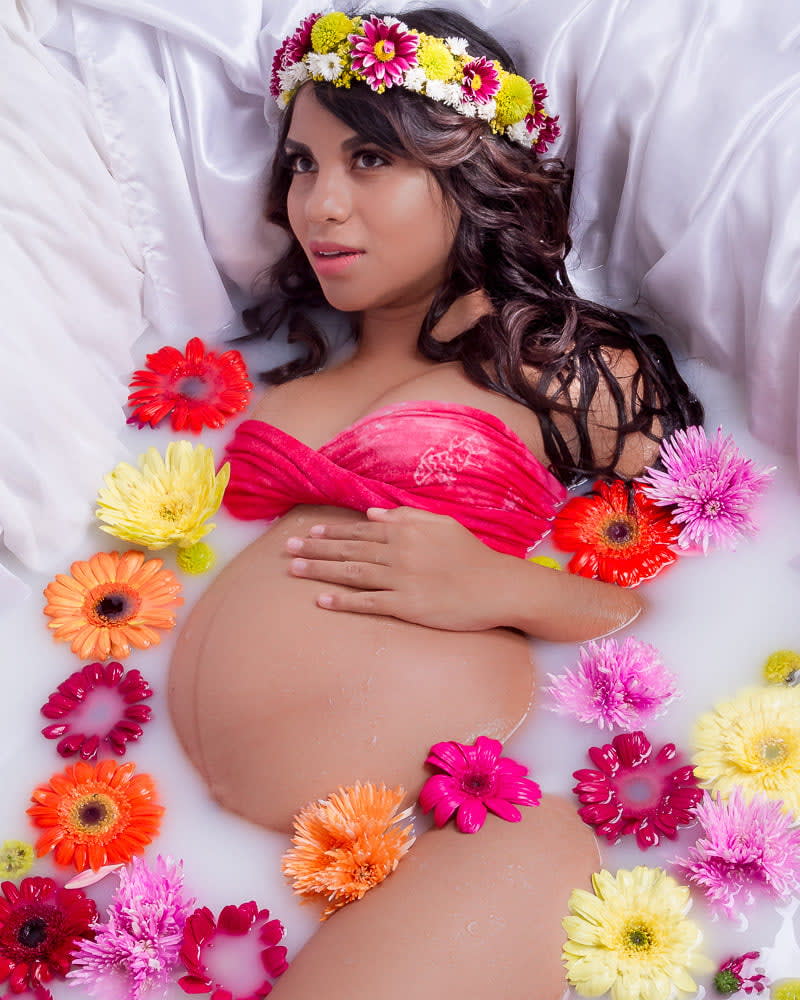 You can add a soft feel to your photos by using milk. Flowers always make beautiful props. So you can use flower crown to make your model look even more beautiful. Ask her to wear a light colored dress or any other outfit made of flowing fabric. Thanks to this, she will be able to move freely and look more sophisticated.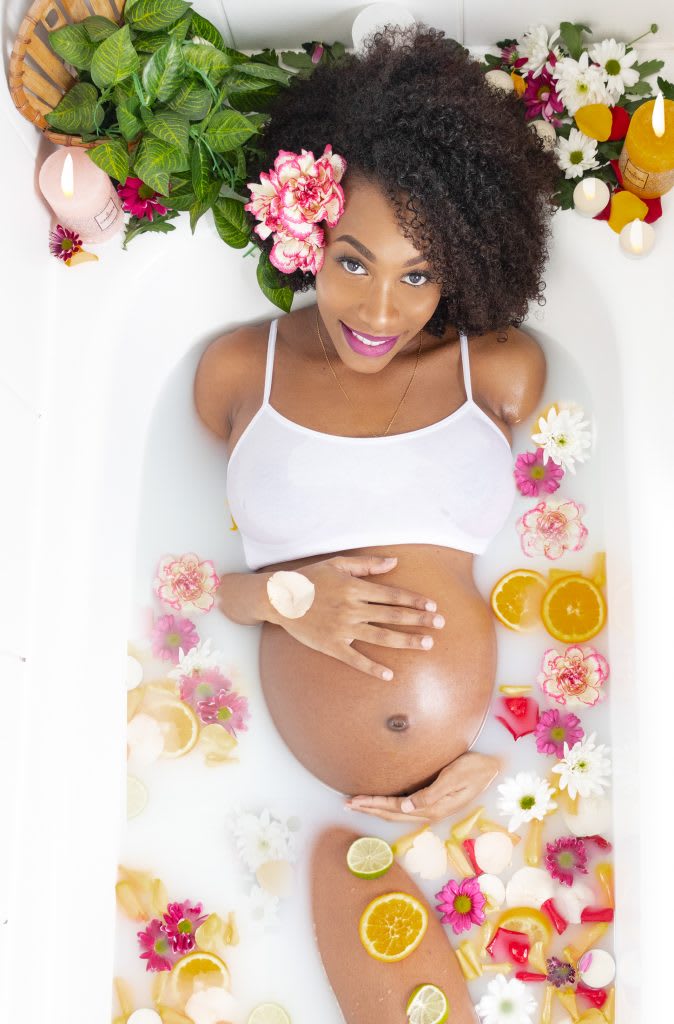 Newborn In a Milk Bath
While taking a milk bath is rarely considered a good idea for pictures of newborn babies. You can snap some unique pictures if you're a parent just to keep your kids above water. For safety reasons, ask them not to leave your child unattended. You don't need much water to take such pictures. The water temperature should be comfortably warm.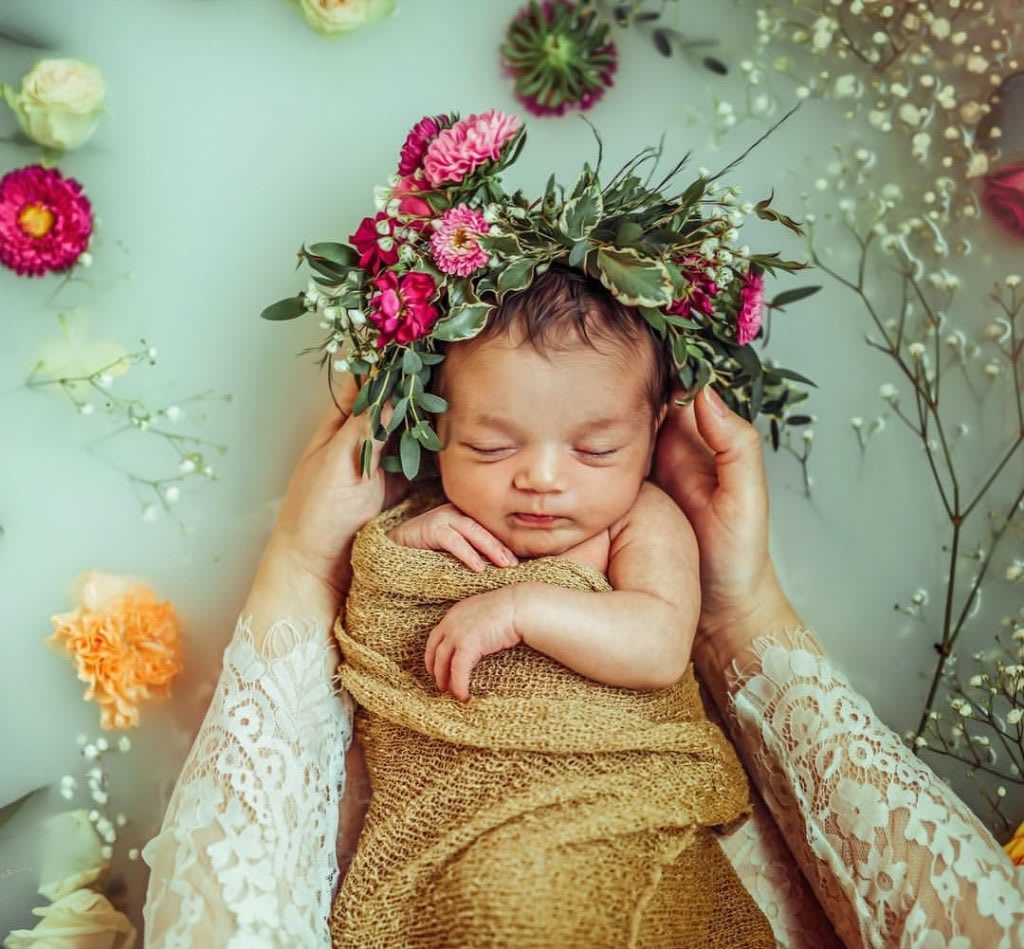 Cover Parts of the Body Underwater
When taking a photo, you can decide that. How much of your subject will be visible in the frame. This will allow you to focus on specific details and hide the rest. A model can decide this too. Which parts of their body do they want to show? This will allow plus-size models to feel more comfortable during the photoshoot.
If you need to take boudoir photos. So you can discuss her wishes with your model. You may also need to know how to calibrate a computer monitor for photo editing to get more professional looking results.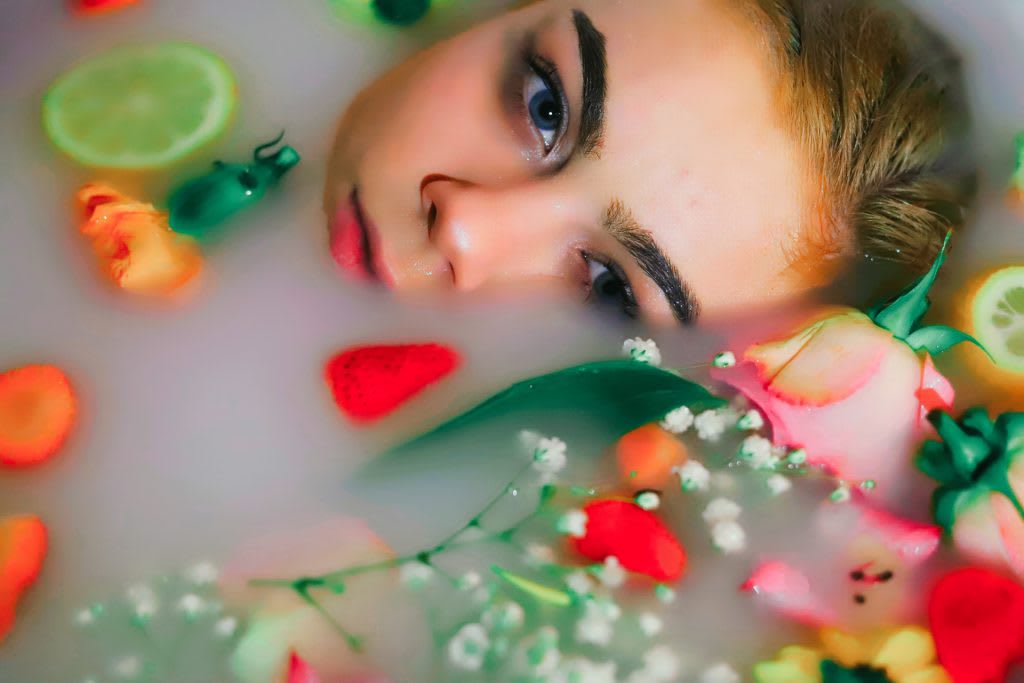 Transparent Bath
Make your photo more attractive by replacing a regular tub with a transparent tub. Before starting your photoshoot, take several test photos to select an appropriate angle and see if the milk in the tub looks good in the frame. That way, a child won't need to spend more than several minutes in the tub during the actual photoshoot.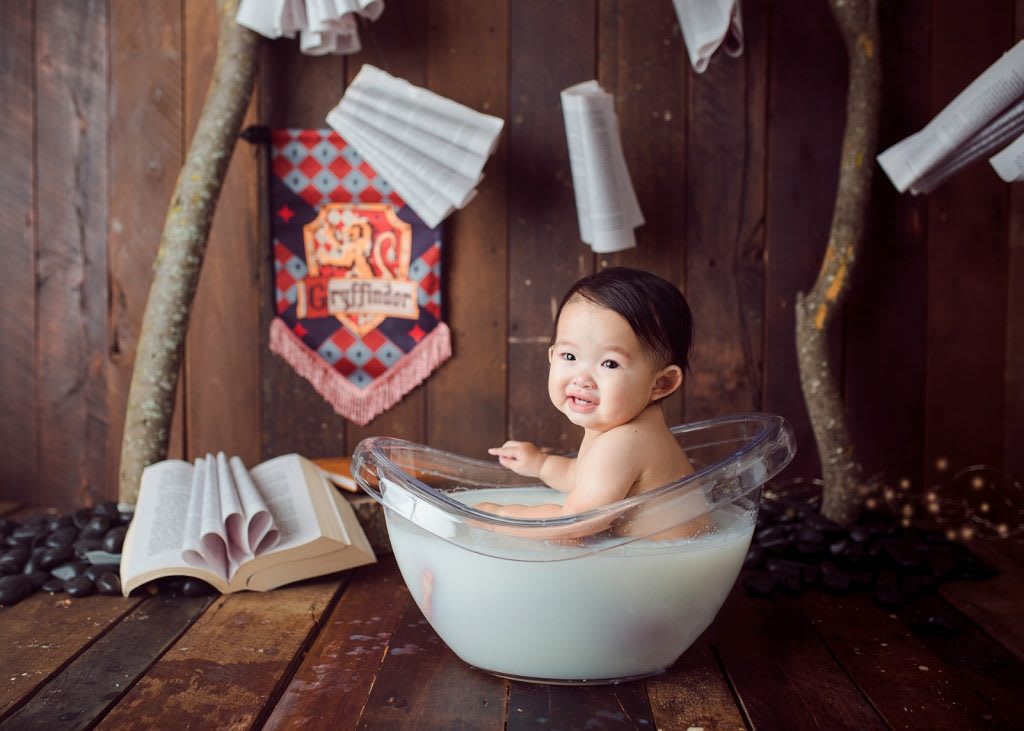 Side View Photoshoot
Whereas most photographers take such shots from an overhead angle. You can experiment with one approach and use other angles. Which allow you to capture the beauty of your model. For example, if your subject is sitting or lying down. Then you can try the lateral angle. Because it will give more interesting feel to your pictures. Such bath tub photoshoot ideas are simple and do not require much effort.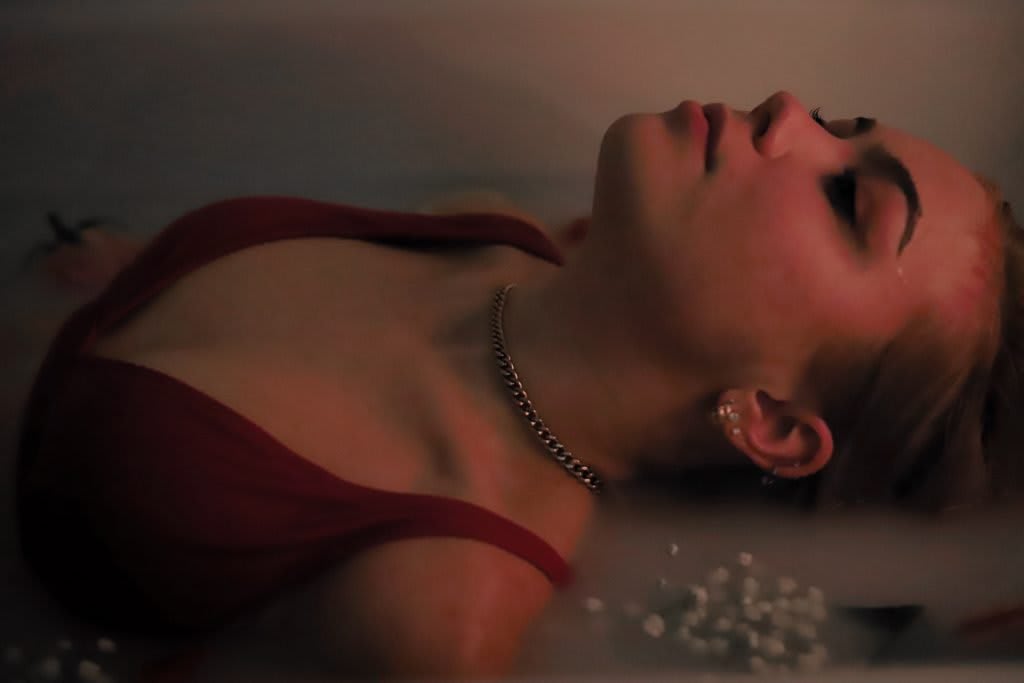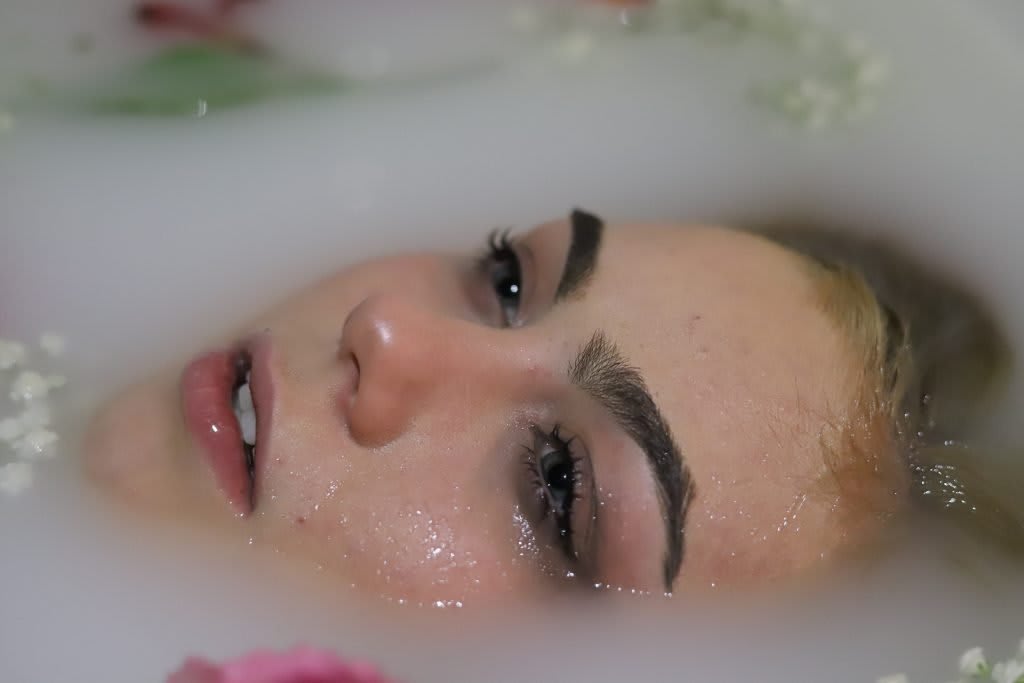 Close-Up Shot
Milk baths are perfect for emphasizing your model's body. You can use different model poses for photoshoot. which are similar to those used for traditional boudoir photos. However, try to be creative and capture only one model's face. You can also include a lot of negative space to make the face stand out. This will enable you to perfectly capture the facial expressions of the model.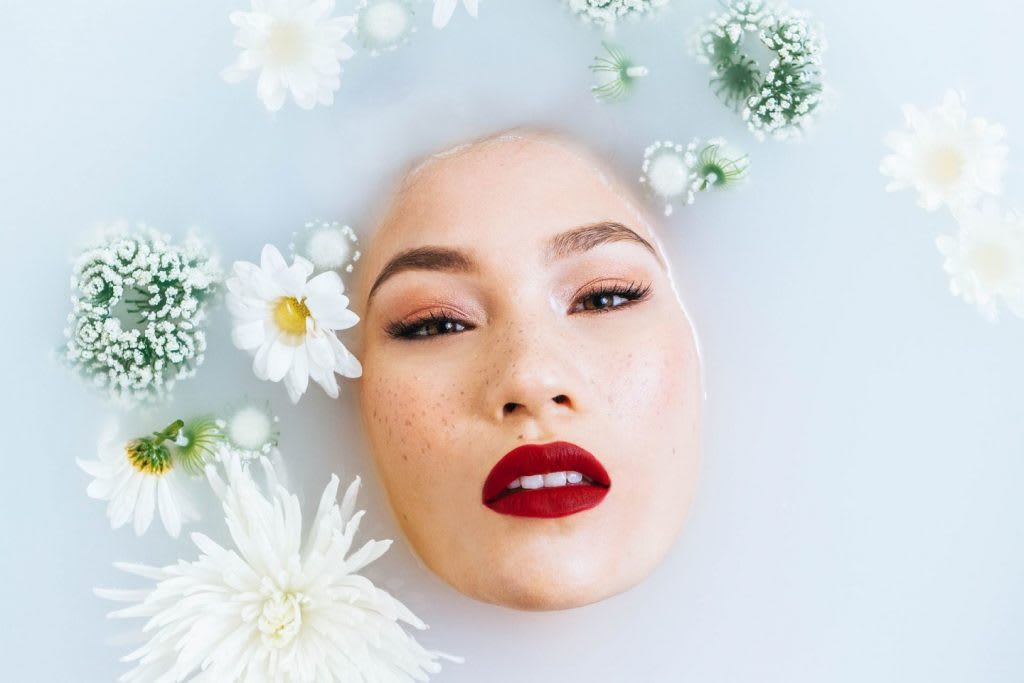 Outdoor Milk Bath
If the weather is nice and there is a lovely garden or other picturesque outdoor space nearby. So you can take stunning pictures with plenty of sunlight in the frame. This way, your images will have a dazzling feel. Make sure to select the most suitable background. that matches your model's outfit. If you want to use flowers as props. So you can put the tub on the grass. Such photos can result in spills of milk everywhere. You can take pictures outside to avoid having to clean up the mess after your photoshoot.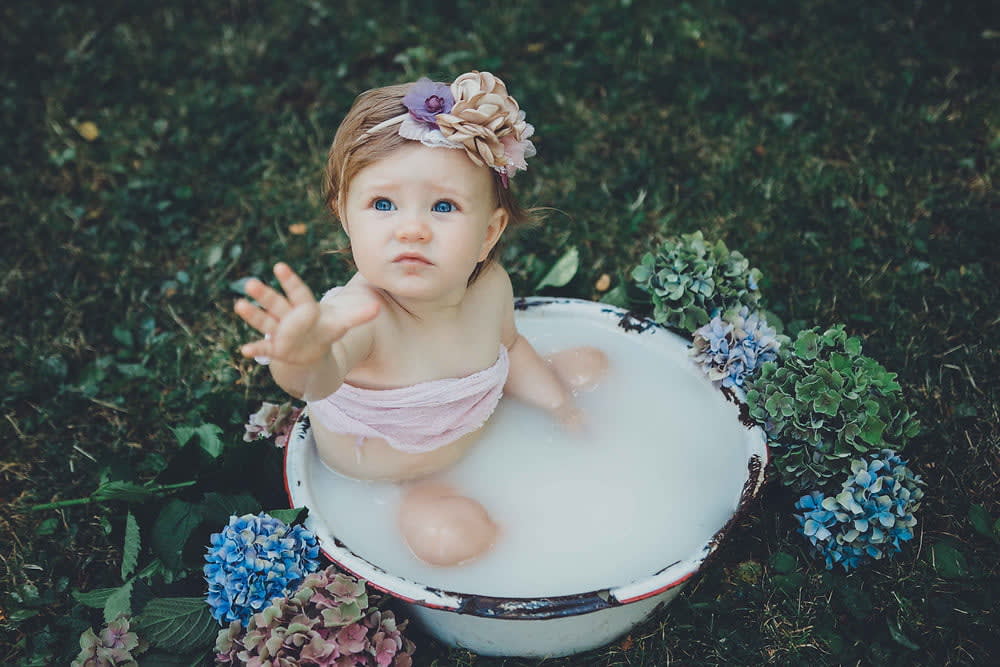 Read More:
Looking for a Photo Editor & Retoucher?
Get a free quote within 24 hours!