Are you Looking for the best photo editing software for beginners to start photo editing like a pro? It doesn't matter whether you are shooting with a DSLR or not. Or to use a smartphone you need easy-to-use software. Which will help you to do basic editing, color correction and picture editing without any experience in this field.
Don't know which software to download? Here's the full review for you! and we in this article you can see the best photo editing software for beginners.
A photograph preserves the memory of a moment forever. Sadly every shot we take. They don't stand by the occasion and preserve a memory in all its glory. Photo post-processing has become important in our daily life. Whether you want to remove any unwanted ones, adjust color correction. Want to improve the saturation or add some filters. You may need a handy photo editing software to help you achieve this.
With so many different options out there, finding a photo editing software that suits you can be difficult. Which can provide you with a set of photo editing tools that are not too complicated to use. For this reason, we have decided to take you through some of the best photo editing software products for beginners and advanced level photo editors alike. Please note that some of the photo editing software listed below are free. While others may require paying some money to remove watermark or use advanced features.
Here is a list of Top 10 best photo editing software for beginners in 2023 to became a professional Editor:-
Adobe Lightroom Classic CC
This Software used for color correction and organizing the photos. This is the best photo editing software for beginners. Due to the large number of free Lightroom tutorials and free Lightroom presets, this software takes the first place in my list of best photography editing software for beginners. Adobe Lightroom gets a huge update and moves to Adobe Lightroom Classic CC.
Following the April 2018 update, Adobe Co made a concerted effort to make camera profiles a vital part of every photographer's workflow. Instead of adjusting the white balance first, this best photo editing software for beginners offers you to launch the workflow with the camera profile you just created. Find out how to get Lightroom for free and start testing the software now.
Related: 7 Adobe Lightroom Tips and Tricks To Transform Your Winter Photos 2022
In addition, Lightroom CC accelerates many color correction processes. Adobe has recently accepted. That said, Lightroom does face some challenges related to productivity. It's releasing a major upgrade to make everything work well. Lightroom presets and brushes are helpful for many beginner photo retouchers.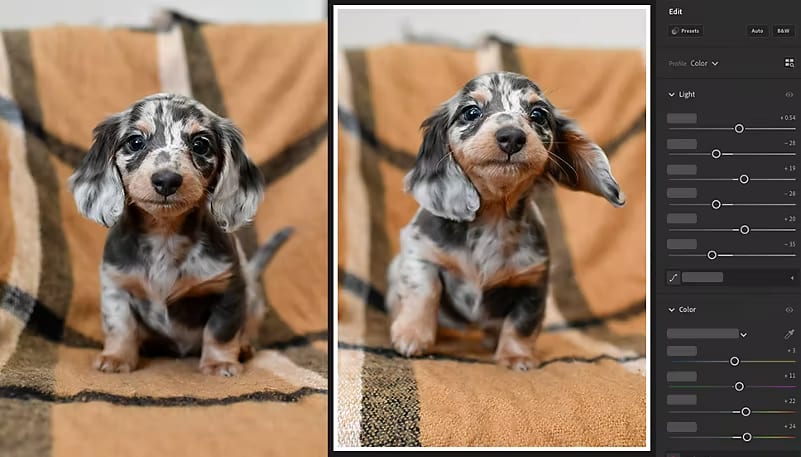 Advantages:
Professional color correction
Easy learning
Smart search tools
Advanced Customization Tools
Many Lightroom presets and brushes
Disadvantage:
Low quantity of import options
Watermarks are applicable to texts only
A limited number of portrait editing features
There is no HDR option and panoramas
Related: Lightroom vs Photoshop: Which one better for Photo editing? 2023
 Adobe Photoshop CC
This software use for retouching, cropping, manipulation, clipping path and lots of task you can do with this software. It is not surprising that Photoshop CC is the leader in my ratings. This is definitely a professional photo editing software. Which is widely used among beginner photographers and photo retouchers. Because of the large number of free tutorials and freebies in the form of photoshop actions, overlays, textures, etc.
Photoshop CC is famous for its stable work. It's really the best place to do any photo manipulation you can think of. If we talk about the choice of novices. Then you should not focus your attention on this software. Anyway, I'm not going to talk to you about it. But the features and options it provides would be too complex to learn from scratch.
While you have decided to check the complete aspects of the software. Results will not take long to come. I recommend downloading Photoshop for free and testing it out for several days before paying for a one-month subscription. This is the best photo editing software for beginners at this time.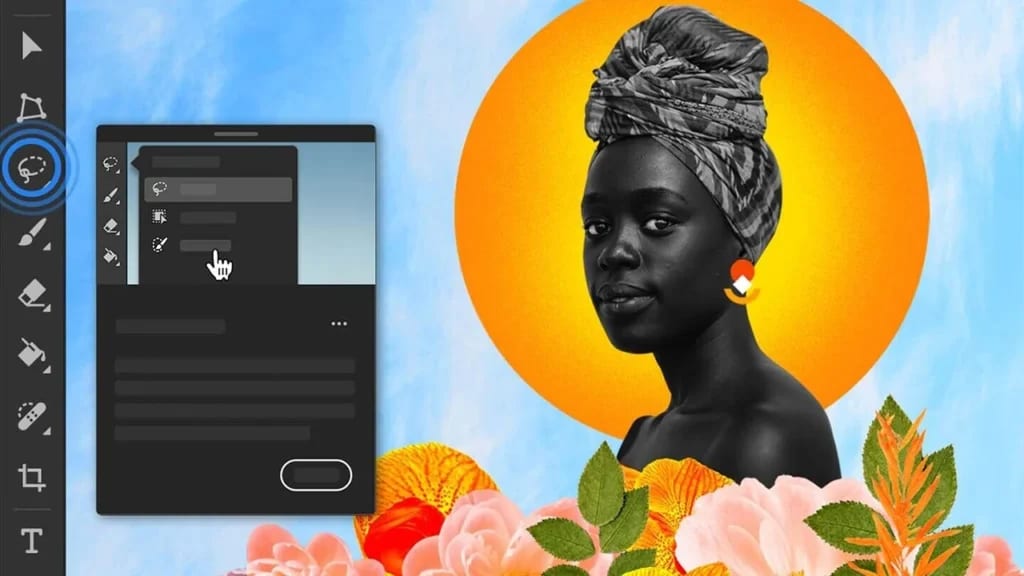 Advantages:
Excellent color correction and photo retouching
Productive and stable work
Many tutorials and updates
Actions, brushes, overlays, textures
Disadvantages:
Only a monthly payment
Too many features for beginners
Some useless tools
Adobe Photoshop Elements
This is best AI Photo Retouching Software, This easy-to-use photo editing software is designed for beginners. Those who do not yet have experience in image editing. It includes simple features to create, edit, organize and publish various pictures. The software has implemented AI options to automatically find the most suitable images and fix the ones that fail.
The best photo editing software for beginners has a simple interface and a small number of activities. Which makes it easy to understand.
Adobe Photoshop Elements 2023 is the easiest photo editing software for beginners. Which is designed for the convenience of editing and creating small video projects. It provides access to core functions, intuitive organization, and step-by-step image post editing instructions. In addition, working with photos has become easier thanks to Adobe Sensei technology (using artificial intelligence and machine learning). Yes you can use this and best photo editing software for beginners this time.
Advantages:
Many high-powered options
Good output capacities
Auto Tagging and strong search parameters
Useful guide for advanced techniques
Disadvantages:
Limited editing features
It's got the large disc trace
No referral system
GIMP
This is the best adobe photoshop Alternative, GIMP (GNU Image Manipulation Program) is a free, open-source photo editor. Which is beloved by many for its ability to help you get under the hood and change a program's source code to fit your needs. GIMP also has a powerful set of editing tools. Many of which are equivalent to paid software. Some of these features include the ability to create and edit layers, filters with special effects; Risk Control; even more.
Because GIMP is open-source, there is a very active community of users. who have created plugins to add even more functionality to the program. However, despite a more user-friendly interface than previous versions, Gimp offers almost nothing in the way of guidance. Which makes it more difficult to learn than other photo-editing software. This is best opensource photo editing software for beginners.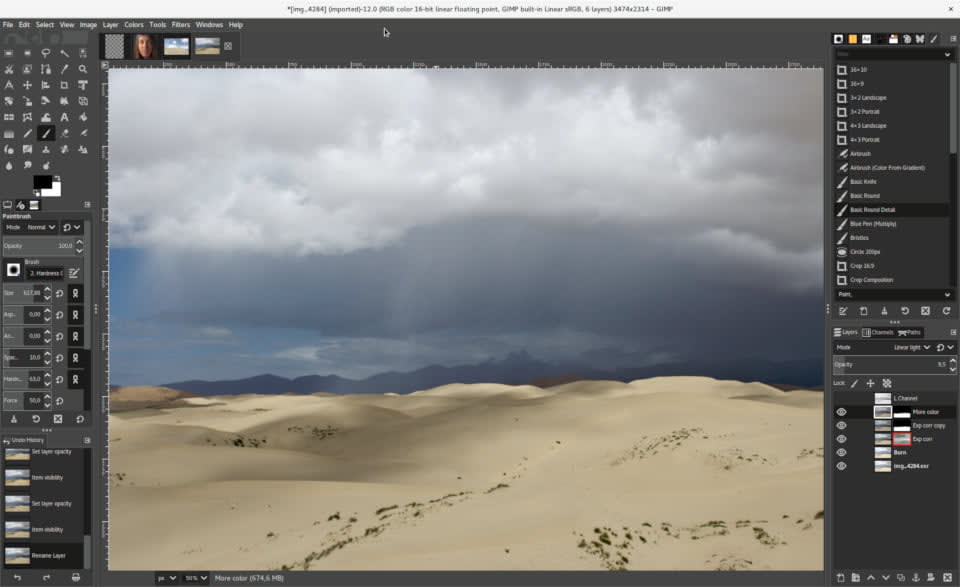 Advantages:
The photo editor is free
Frequent updates
Open source software
It's flexible and customizable thanks to plugins and scripts
Disadvantages:
No 16 bits per channel color support
There are some lags
Pixlr
Pixlr is an website used for online photo editing service you can use through your web-browser. Pixlr's lightweight free photo editing software works well for beginners and more experienced editors alike. For those who need a quick solution for photo editing. Without a fully loaded editing suite to search through, you can easily find tools like the spot-healing brush and stamp. Or make minor adjustments to the color and lighting of the photo. Pixlr's well-organized layout and minimalistic array of tools help simplify the photo editing process for beginners.
why we chose it
The software supports layers and masks and features many essential tools for editing photographs. such as customizable brushes and visual effects. Advanced users familiar with Photoshop will find the software's toolbars familiar.
Ground level
Although the program rarely crashes. Ad-heavy banners and poorly navigable pages reduce the platform's functionality and aesthetic appeal. You may also notice that the program renders slowly. Which results in frustrating, inconsistent movement of your mouse or touchpad.
Casual users can enjoy editing photos or creating collages within Pixlr's software with minor tweaks.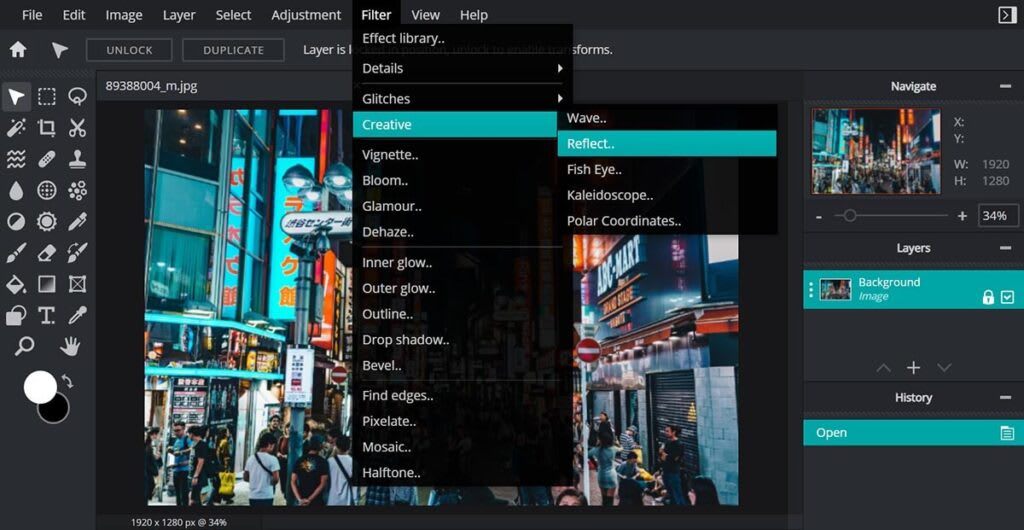 Advantages:
Masks and layers
Adjustable interface
A mobile app
Reopens images from the desktop and URL
Pro and free version
Disadvantages:
Flash player is required
Too many ads
Colorcinch
This is the used for Unique cartoon effects and more. Colorcinch has an impressive set of image and text editing options. It supports layers and blend models. You can access stock photos as well as use a huge in-built library of filters and effects. If your budget is low, you can use Colorcinch without paying a single penny. Furthermore, you can access advanced features after paying for a premium subscription.
With it, you can crop your images. Can resize and rotate, adjust exposure, brightness, contrast, highlights and shadows. This service allows you to modify colors to make them more alive, remove blurriness, add vignette effect. You can adjust the settings with the help of sliders.
If you don't know how to use some tools. So read the on-screen tips. If you already know how to use a specific tool. So you can hide them too. Use filters, effects and masks from the integrated library, to enhance your images and make them more attention-grabbing. This is the best photo editing software for beginners.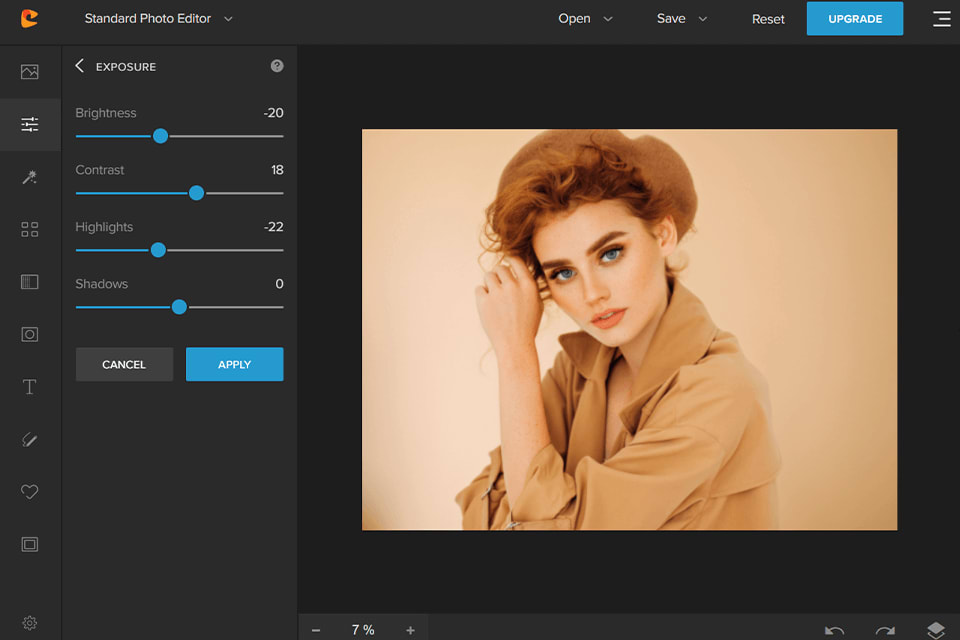 Advantages:
AI-driven image effects
A variety of filters and effects
2.5 million photos, graphics, and icons
Convenient Layers panel
Disadvantages:
You might face some issues when saving images
Get Free Trail!
Want to join a worldwide community of pro photographers that are getting free and becoming successful?
send us pictures for free trial
FotoWorks XL
This is the best reliable and user-friendly program. PhotoWorks XL has a user-friendly interface with an easy-to-find toolset. Here, you can open the images one by one. Or display the entire range at once. Users can rotate, flip and crop the photo if required.
In addition, the program provides basic editing tools for correcting brightness, contrast, colors, making images sharper or blurring certain parts. It is also possible to resize photos, prepare them for print, as well as launch auto enhancement. The library of effects includes some really interesting options.
In addition to artistic effects, you can make good use of masks. You can also add borders and text, draw or morph photos. If you are working with portrait image. So you may need to remove the red-eye effect. For other types of photos, there are picture-in-picture effects and clipart options. This is the best photo editing software for beginners.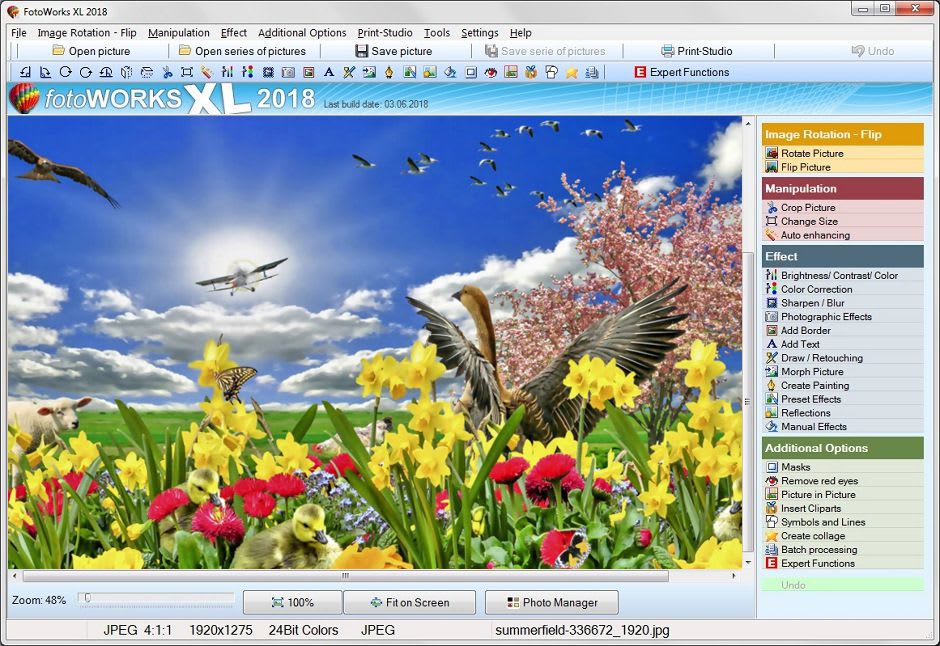 Advantages:
Clear UI
Users can add masks
Lots of effects, fonts, and frames
Allows creating collages and making a photo montage
Disadvantages:
Interface calls for updating
Limited toolset
Picsart
This is the best for Editing multiple photos at once, Picsart is the world's largest platform of AI-powered tools to equip everyone for professional-quality image and video enhancement. Ease of use and speed are key, while unique and customizable fonts, color gradients, backgrounds and stickers provide the freedom to create engaging content without a design school degree.
Start with a library of pre-made templates, and gain access to a creator community of free-to-edit inspiration to re-invent, reuse, and export for all your marketing team needs. This is the best photo editing software for beginners.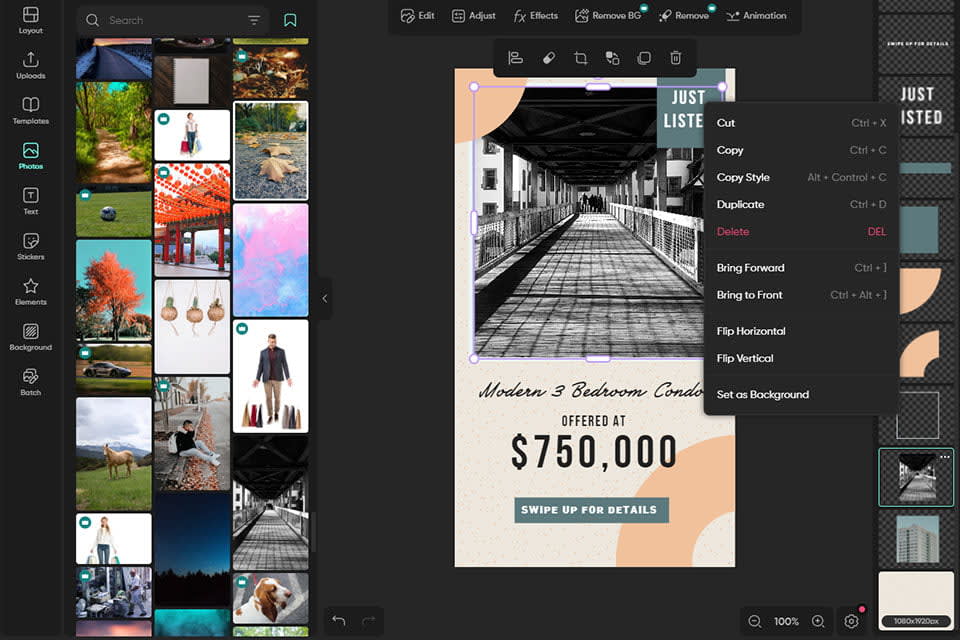 Advantages:
Huge content library
Free-to-edit templates
AI-powered smart tools
Disadvantages:
Saving edits only for paid accounts
Not for editors who love layers
Missing search option
PhotoScape X
It is one of the best photo editing software for beginners. Which will not take much time to master. In addition to enabling you to view photos, PhotoScape also offers a wide range of photo editing tools. Its interface is easy to navigate. You shouldn't have too much trouble using it.
PhotoScape is equipped with all the basic photo editing tools. So you can adjust colors, add text or frames or perform many other photo editing actions. This Windows-based photo editor lets you combine and merge multiple photos to create collages or split your pictures into separate pieces.
Its batch-processing capabilities are also noteworthy. So if you are looking for a way to edit a large number of images. Then you should consider using PhotoScape. Furthermore, this photo editing software for beginners lets you create GIFs from your photos and take screenshots of your computer screen.
Photoscape can be a good option for all those photographers. Who has recently got his first DSLR camera. Because it allows them to easily convert RAW files to JPEG. Its printing features are also among the reasons for novice photographers to use this software. Because it enables them to print portrait, landscape or even passport photos. This is the best photo editing software for beginners.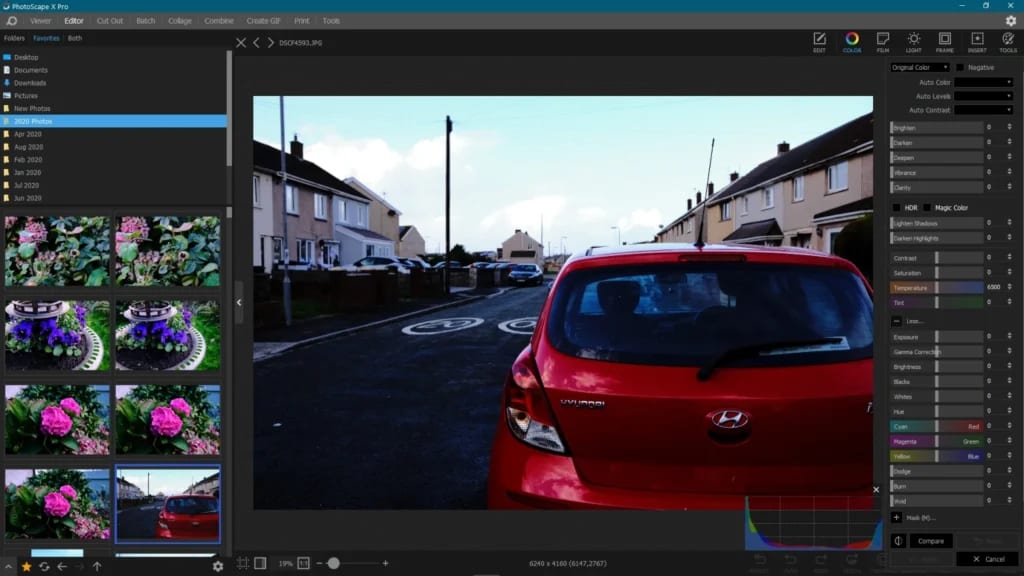 Advantages:
Offers a rich selection of photo editing tools
Merging or combing photos is easy
RAW to JPEG file conversion capability
Excellent batch-processing features
Disadvantages:
Only compatible with Windows OS
Lacks any advanced photo editing options
Paint.Net
Paint.Net is the best photo editing software for beginners and this tool best for layer editing.
Paint.NET is the best free photo editing software for those people. Those who need a free solution for multi-level image editing. Editable layers are usually reserved for paid software. But Paint.NET provides this functionality for free. Even better, every edit to the layer is recorded, and you can go back and undo any changes.
Why we chose it
There are also adjustment tools in this free photo editing software. From which you can tweak brightness, contrast, saturation, hue and curves. You can make an image sepia-toned or black-and-white. Apply blur or sharpen images. You can also edit pictures with perspective and tilt with unique 3D rotate/zoom effects.
Ground level
It is not a replacement for more professional editing software such as Photoshop. But Paint.NET is a good practice tool for beginners. Those who want to learn more advanced editing techniques. One of our major complaints while testing this free photo editing software was with the text tools. You can't edit the text once it's added – something that almost every other free photo editor will allow. This is the best photo editing software for beginners.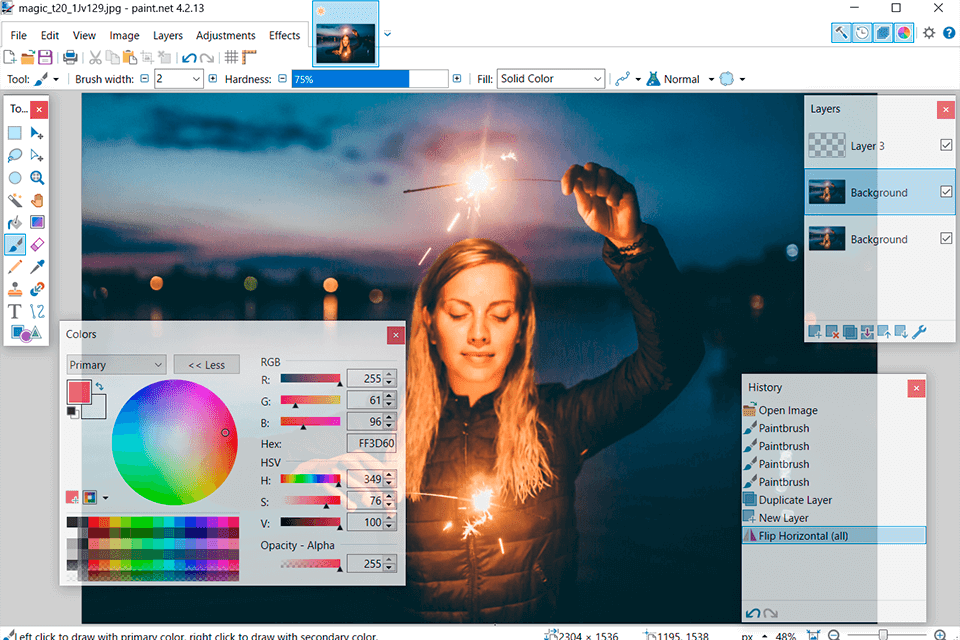 Advantages:
Simple and handy
Easy to learn
Many useful features and effects
A lot of plugins
Well-designed interface
Disadvantages:
A limited brush tool
No Burn and Dodge
Text correction is impossible when the app is used
Related: Premiere Pro free download & free trial – 2022 Version